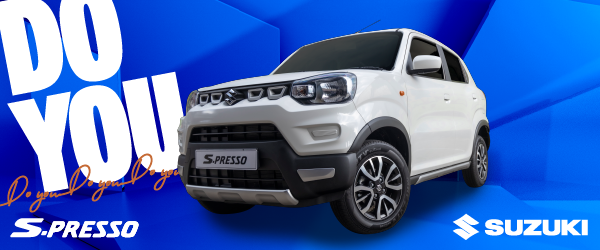 The new Suzuki S-Presso is all kinds of cool for many reasons: ranging from funky looks and colours to a host of cool features. Not forgetting, of course, the main talking point around the S-Presso – the absolutely amazing pricing.
Estimated reading time: 4 minutes, 6 seconds.
In the current motoring landscape, if you want your car to do well, it can't just blend in with the rest of the market. Suzuki knows this all too well as you can tell from some of their latest offerings. The all-new Jimny already gave the world a wakeup call proving that you don't need fancy curves and lines to have an instant cult-classic car. The new S-Presso follows that same thinking, and the result is one of the coolest new Suzuki models – with the added bonus of being rather affordable. There's just so much to like about the Suzuki S-Presso, so we thought we'd make a list in case we forgot anything.
The name. There are few cars with a name as cool as S-Presso. Everyone loves an Espresso, but if a Cappuccino is preferred, Suzuki used to make those too. There is just no way you can tell someone you drive an S-Presso without it turning into a fun conversation.


The colours. There's no point having a funky car with bland paintwork, and Suzuki likes to make their cars stand out. With colours like Fire Red, Starry Blue and the instant favourite – Sizzle Orange, you're guaranteed to stand out from the crowd. For those wanting to be cool, yet understated, there's the option of Metallic Granite Grey, Silky Silver or just plain white.


The ride height. The Suzuki S-Presso is a mini-SUV, and that means it has more ground clearance than your average car. This means you'll be able to navigate any roads in SA, even those with potholes the size of koi ponds.


Storage space. There's not much as annoying as climbing in a car with a fresh Espresso only to find out there's nowhere to put it. Luckily in the Suzuki S-Presso there's an abundance of storage compartments for all sorts of things. There's a rear console pocket, a front console cup holder, door pockets, a handy open tray, a front console pocket and of course, a glove box (or cubby hole if you're that way inclined).


The dashboard. Suzuki took the conventional dashboard layout and threw it out the window. There's no instrument cluster in the Suzuki S-Presso, instead there's a new Meter Cluster. This gives the S-Presso a proper feel of the future with an amazing circular central cluster with a sophisticated LED display for things like time, fuel economy, average speed, driving time and more.


Infotainment. On the GL and S-Edition trims, there's a 7-inch screen heading up the system, complete with smartphone connectivity and a reverse camera. But what's a funky car without funky tunes? With that in mind, Suzuki made sure you can pump your own tunes in the S-Presso via a USB/AUX port, through Bluetooth connectivity, and also via Apple CarPlay and Android Auto. And you thought budget cars were featureless!


Reverse camera. The Suzuki S-Presso also features a reverse camera so that you never have to worry about damaging your pride and joy when alley-docking.


Great safety. When discussing budget-friendly cars, safety is usually not a talking point, unless you're talking about a Suzuki S-Presso of course. This funky little car has you covered with a light, impact-absorbing Total Effective Control Technology (TECT) that helps protect you in the cabin in case of the unthinkable. There's also a pair of SRS airbags up front to keep driver and passenger safe, as well as an anti-lock brake system (ABS) and electronic brake-force distribution (EBD) that optimally distributes front and rear braking force to help reduce stopping distance. Are we sure the pricing for the S-Presso is right?


Fuel efficiency. The Suzuki S-Presso has a 3-cylinder petrol engine that produces 50kW of power and 90Nm of torque, combined with a manual or automatic manual transmission (AMT) it has an aversion to drinking fuel. The S-Presso returns consumption figures of just 4.9-litres/100km, so you can look good AND save fuel.


Pricing. We saved the best until last. The Suzuki S-Presso is set to shake up the budget-friendly car market. As you can see, the features included in an S-Presso make you question if the advertised pricing is right, and it is. This funky package most definitely ranks as the most affordable brand-new car in SA. Visit the Suzuki Auto website for the most recent prices. If you think the Suzuki S-Presso sounds like the perfect car for you, then you should get in on the action while stocks last, because at this price point they're going to fly off showroom floors.
There's a lot more to the Suzuki S-Presso: full details and specifications are available, download the brochure or discover how to 'Do you' to find out more! Just be prepared though, you may well leave with an S-Presso obsession.