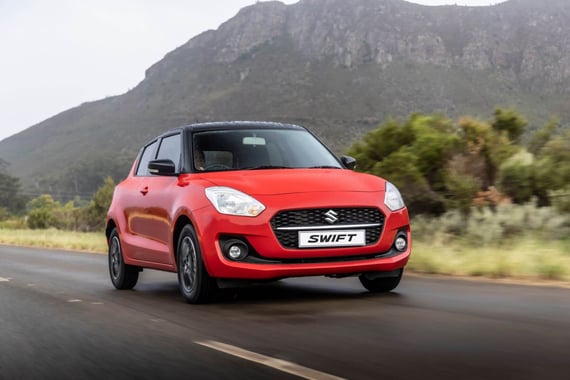 There's still a misconception in SA that small cars aren't built for long distances. In fact, they're lighter on fuel and modern compact cars are so well equipped inside that they're just as comfortable on the open road as their larger siblings.
If you're currently planning to go far in a small car, we've put together some useful tips to help you along your journey. The most important starting point is to ensure your car is ready to hit the road (this applies to any size vehicle). You want to check tyres, engine oil and water, windscreen wipers etc and the easiest way to do so is to contact your dealership or local AA office and arrange a pre-holiday check. This way you can be sure that your car is in top running condition.
Part of this pre-trip check can be giving your car a proper clean. Dig out all the papers and sweet wrappers from under the seats and get your wheels in shiny condition before you leave. It's just going to make your journey so much more comfortable if you start off with everything in mint condition.
If you're used to a slightly larger vehicle, or this is your first long - distance road trip, try to be organised about what and how you pack. Smaller vehicles like the Suzuki Swift and Celerio have ample packing space, but you want to make sure that the items you need on the road are easily accessible. It will become incredibly frustrating if you have to unpack the entire car at every rest stop.
It's a good idea to make an essentials vs non-essentials list before you start packing for your trip. We're tempted to take as much as possible with us, but are you really going to use the floating pool flamingo on your hiking trip? Once you've whittled down the list, pack the car according to what needs to be accessible on the road. You'll most likely be surprised by how much space you really have, and can then throw in the flamingo just for luck.
One of the biggest benefits of a small car is reduced fuel consumption. Packing your little car to the rafters will obviously have an effect on your fuel consumption, so make sure you budget for this. Keeping fuel consumption to a minimum is added incentive to leave unnecessary items behind.
The most important part of any road trip, no matter how long, is safety. Check that your spare tyre is in good shape (this should be part of the pre-trip check mentioned above) and make sure you have these safety essentials on-hand:
A warning triangle should you need to pull over to the side.
A charged cell phone in case of emergency (it's amazing how quickly we forget to charge a phone on holiday, especially if you're using it to play your road-trip playlist).
Emergency contact details: towing / insurance.
First-aid kit: make sure you've got the basics from antiseptic wipes to anti-allergy medication.
A 'system' to make sure the driver doesn't get drowsy - either by swapping drivers often if possible, or planning your stops in advance.
And the final tip: enjoy your journey! If you're organised and everything you need is within easy reach, a decent road trip is one of the best ways to really enjoy your car and appreciate all the features you don't get to use on your chaotic morning trips to school or work.
If you need more information keep in mind download our ultimate guide to questions to ask your dealer and prepare for your next road trip with the right ride.
Click here to register for email reminders to renew your licence.