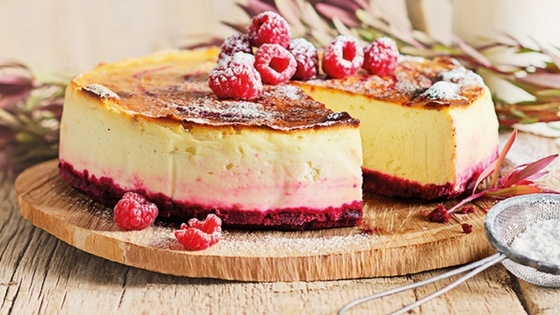 Amaze your guests with this incredible cheesecake recipe. There's nothing quite like a velvety cheesecake, and this recipe gives you more than that - an excellent baked cheesecake, with a deliciously moist red velvet base.
Estimated reading time: 1 minute, 22 seconds.
Red velvet cheesecake
SERVES 12 | HANDS-ON 20 min | HANDS-OFF 4 hours 30 min
INGREDIENTS
250g digestive biscuits

100g unsalted butter, softened

20 ml red food colouring, plus extra to decorate

600g cream cheese

300g crème fraiche

160g white chocolate, melted

150g caster sugar

6 large eggs, 3 separated

1½ tsp vanilla essence
METHOD
Line and grease a 20 cm springform tin.
Blitz the biscuits in a food processor. Add the butter and food colouring. Line the tin with biscuits, pressing down with a spoon. Pop in the fridge to set.
Preheat oven to 160°C.

Beat the cream cheese until smooth. Add the crème fraiche, chocolate and sugar. Beat in 3 whole eggs, 3 yolks and vanilla.

Line the outside of the tin with strong foil so that it covers the bottom and sides. Place in a roasting tin.

Pour the cream-cheese filling on to the chilled biscuit base.

Dip a toothpick in red food colouring and drag it across the top of the cheesecake to decorate.

Pour boiling water into the roasting tin around the cake. It should come about halfway up; don't overfill, as it will be hard to lift the tin.

Bake for 90 minutes. When done, it should feel set, but still a bit wobbly.

Take the tin out of the water and leave to cool slightly. Place in the fridge to set completely, about 3 hours.
For more great desert recipes, click through to the 6 unusual braai dessert you'll love.
Click here to download our ultimate collection of car games to use on your next family road trip.