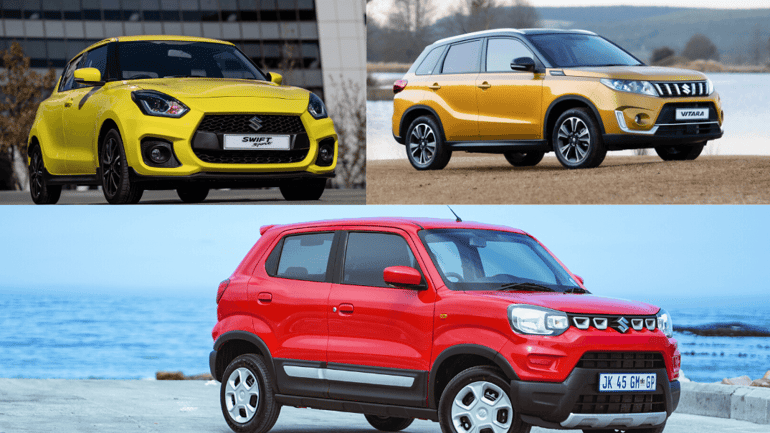 We spoke to real Suzuki owners to understand what made them choose their cars?
Your car is a very personal choice, and there are many reasons why people take home the model that stole their hearts. It could be looks, practicality, or lifestyle - or a combination of any of those qualities!
We spoke to some real life Suzuki drivers, on social media and other places, and found out why they chose - and love - their Suzuki.


Name: Lesley Madibeng
Car: Grand Vitara
Reason why: Suzuki cars are different, low on hijack risks, rugged and affordable. I love my GV it takes me everywhere and it's for keeps.


Name: Samantha Steele
Car: Vitara
Reason why: I have always loved the Vitara's attractive design, and when it was time for my husband and I to start considering a car that had more room for our dogs, made it easier to go on game drives and just enabled a different lifestyle, this was the one I knew I had to have! Now considering how fuel efficient it is and how pleasant to drive, I'm extremely glad I nabbed it when I did.


Name: Ryan Nofal
Car: Grand Vitara
Reason why: Let's start in the beginning. I have owned five different Suzuki's, all of which were purchased because I fell in love my friends' mom's Suzuki Jimny Samurai that we used to go on matric vacation. I loved the simplicity of it and that it was not a mainstream vehicle. When I started working at Penquin (Suzuki's marketing agency) and found out that Suzuki were now officially in South Africa selling multiple vehicles, the choice was really a simple one. When deciding on this specific vehicle, I had two options in mind. I was looking at a Suzuki Kizashi and a Grand Vitara. My final purchasing was made because I could fit two child seats in the back and still have enough space in the boot for the things that come along with having two children.


Name: Andrion van der Merwe
Car: New Swift
Reason why: Considering the economic pressure with the fuel price which keeps on rising, we had to consider at least one very fuel-efficient car between my wife and I. And when doing my research, that is exactly what the New Swift had to offer! On top of that, it is a sexy little car with nice exterior curves and a good sporty looking interior. The slogan 'All the Right Feels' couldn't be more appropriate for this lovely little vehicle.


Name: David Brand
Car: Ignis
Reason why: I chose the Suzuki Ignis for its different styling and loving it all round 👍👍👍


Name: Melissa Mays
Car: Baleno
Reason why: After having continuously broken down on the side of the road, I needed reliability and affordability and started my search for a new ride. I was not loving the design and look of some of the cars that fit my pricing range (who knew I was so shallow), so I started setting my sights on second hand cars. Through many conversations and research, I hopped on the phone with a Suzuki Dealership and they offered me a fantastic deal on a NEW car. The biggest plus was that I did not have to compromise on styling.

---
To find out what another Baleno driver had to say about this elegant hatchback, check out this article… Why I love my Baleno.

---

Name: Darren Leishman
Car: Grand Vitara
Reason why: Full disclosure - I have worked as a supplier to Suzuki for almost 19 years. My first exposure to the brand was with the Superbike race team way back in early 2000. I was very green in the motorcycle world but as I do with all my clients I started doing my homework. That included a lot of listening and some reading and asking questions. That year the GSXR1000 was very competitive in the national championships but the high level of performance was not what gained my interest. I watched the teams in the pits between races and noted a significant difference between the crews. When our team brought the bikes in the crew did a few basics like tyres, lubricants brakes while other crews were running like made replacing clutches (the Italians know all about this) and doing a wide range of running repairs. When I looked at the spares list at the end of the season the bikes were running mostly on the original parts - any replacements were primarily crash related.
I asked my go to guy at Suzuki (Steve Swanepoel) if this was normal, he grinned and leaned back in his chair and made a statement that I will never forget. He said "Suzuki's don't break". Steve was a big influence in my business life, he was a mentor and an inspiration and fostered in me a passion for the Suzuki brand that has gone way beyond me and has taken root in my family.
I currently drive a Suzuki Grand Vitara 3.2 and rider a DL650 VStrom (motorcycle). My Suzuki family tree branches widely - I am an avid promoter and encourage everyone I can to at least try one. successful conversions include: wife, mother, brother-in-law, sister-in-law X 2, niece X2, nephew, and many childhood friends and colleagues.


Name: Veronica Wainstein
Car: Vitara
Reason why: I fell in love with the Suzuki brand when I first set eyes on the Jimny. That love affair has since seen me drive and SX and now a Vitara too. I didn't think you could fall for a car at first glance, but the I had the same reaction to the Vitara as I did with the Jimny and once again, Suzuki didn't disappoint. My Vitara is frikken awesome. It's comfortable, smooth to drive and she is damn sexy. It completely captures who I am and I am as happy driving it as I was my Jimny and my SX4 . . . perhaps though, like a parent who will never admit they have a favorite . . . Vitara might be winning this race.


Name: Jamey Nofal
Car: Vitara
Reason why: I have owned a variety of Suzuki's and have always loved my first and true love - the Swift - but as I've grown and as I started a family, my needs changed and I got a Ciaz for some more boot space. When my family grew even bigger I got an SX4. I unfortunately had an accident while I was pregnant with my second child and wrote off the SX4, but when I had to get myself new car, a Suzuki was my only choice once again and the Vitara gave me all the space I needed for two kids as well as the surety in the back of my mind that the Vitara would protect me and my children to the best of its ability, just like my SX4 did.


Name: Trevor van Rensburg
Car: Grand Vitara
Reason why: 10 years ago I decided that my sedan was no longer an ideal fit for my growing family. Once I had packed the boot with all things 'baby', there was no space for suitcases! Our venue choices for holidays and weekend getaways had also changed. Suddenly sand roads made traveling to interesting places that were off the beaten track, very stressful. It was time for an affordable, capable SUV. I did my research and the Grand Vitara was top of my list. I then asked a friend who had just bought one if I could test drive his and I was sold.


Name: Christy Green
Car: Ciaz
Reason why: The size and fuel economy. Love my Ciaz.

Now that you have read some authentic stories from passionate Suzuki drivers, take a look at our range of Suzuki cars or Book a test drive in the one you've had your eye on for a while.