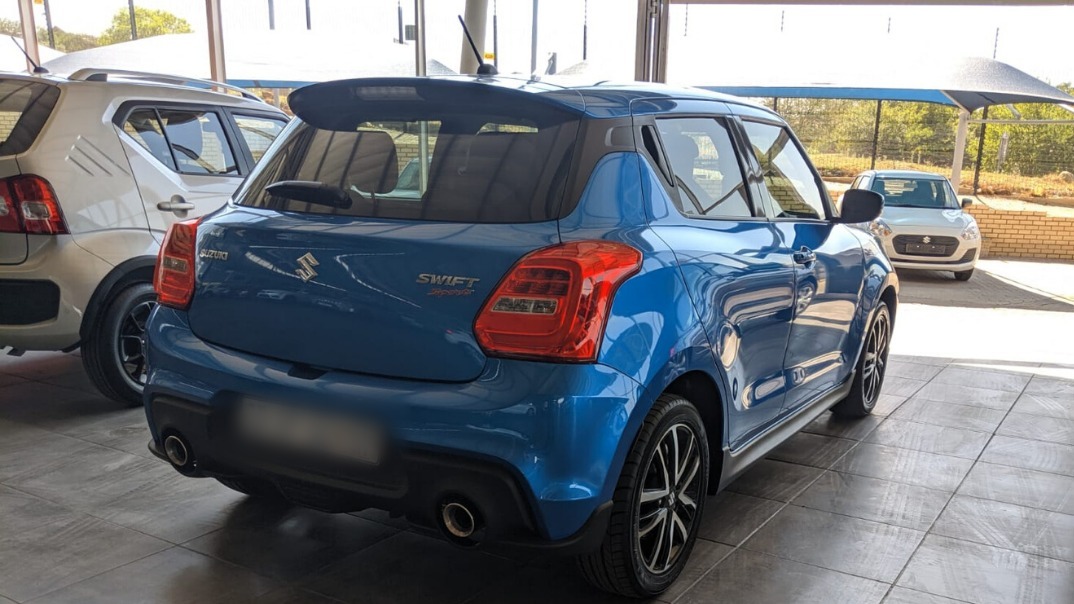 Now in its third generation, the Suzuki Swift Sport is an unapologetic hot hatch with style and attitude. We spoke to a couple of Swift Sport owners and asked them what they love most about their cars.
Estimated reading time: 3 minutes, 30 seconds.
Paul Jeffrey, the proud owner of a Suzuki Swift Sport, admits it was love at first sight.
"From the first test drive I fell in love with the feel of the cabin, it's a lovely place to be with great instrumentation and I really enjoyed (and continue to enjoy) the entertainment system and integration with Android Auto," he says.
The Swift Sport's interior is designed for anyone who loves the pure joy of driving a beautiful car. The centre cluster has a red tachometer and dark-silver speedometer, providing a sporty feel and stylish contrast.
According to Paul, "From a driving perspective the mid-range delivery of the 1.4T took me by surprise, the power delivery makes it the perfect vehicle for nipping around town and taking quick gaps in traffic while still having the legs for the open road.
"The ride is comfortable but still delivers a firm and sporty feel, the front-end is especially confidence-inspiring with sharp turn-in with minimal body roll allowing you to confidently enjoy this car through the twisties. The short-ratio 6-speed box adds to the overall sporty feel with a satisfying short throw and snappy gear changes with the brakes providing ample stopping power and feel to rein it in."
The true magic of the Suzuki Swift Sport lies in the balance between comfort for the daily commute, and superb power and handling when you want to stretch the car's legs. Along with its unique styling, these characteristics have turned Swift Sport into an iconic hatch worldwide.
"Overall the vehicle is confidence-inspiring and a great place to be, would definitely recommend (and already have done so) to any of my friends," says Paul.
Brandon van Niekerk, another enthusiastic owner of a Suzuki Swift Sport says he is particularly fond of the 'spirit' of the brand. "I love the vibe once you join the Suzuki family. There are plenty of get-togethers that are loads of fun, and you really feel as though you have become part of an elite club. It's fantastic," he says.

"But, obviously, it was the Swift Sport that got me into the Suzuki family in the first place," says Brandon, "It's an absolute pocket rocket."
Much like Paul, Brandon agrees that Suzuki is the kind of brand you have to experience to truly understand. "I'm always surprised when people underestimate Suzuki," he says, "and I can't understand why. They produce brilliant cars, have a long and fascinating history, and their vehicles have so much more character than you find in any other brand. From the exterior styling to comfort to performance, my car just continues to impress. I'm constantly trying to convince people to just go test drive one, just so they can see what I'm going on about."
As the owner of a Swift Sport, Brandon is a bit of a petrol head, and admits that performance was one of the deciding factors when he purchased his car. "This little Japanese hatchback completely blew me away - I really underestimated the amount of grunt this car possesses under the bonnet," he says, "the 1.4 litre turbocharged boosterjet petrol engine delivers 103kW and 230Nm. The six-speed manual transmission is spectacular and with a power-to-weight ratio of 106 kw / ton, it trades punches with the Opel Corsa GSi, Mini Coopers and the Polo GTI. Yes! I'm a bit of a hot hatch nut, and that's why this car is my soulmate."
According to Brandon, he has a very long list of 'likes' when it comes to his Swift Sport: "I love everything from the performance, ride quality, sporty exterior trim and the twin tailpipes to the pure fun factor that simply comes with owning this car. Add in the agile handling characteristics and that glorious exhaust note, and you simply have the best package possible."
Get the Suzuki sensation of this turbo-charged Swift Sport, book a test drive and feel this turbocharged hot hatch for yourself.
---
For all things Swift related visit our Swift page and learn more about this fan favourite model that gives you all the right feels.