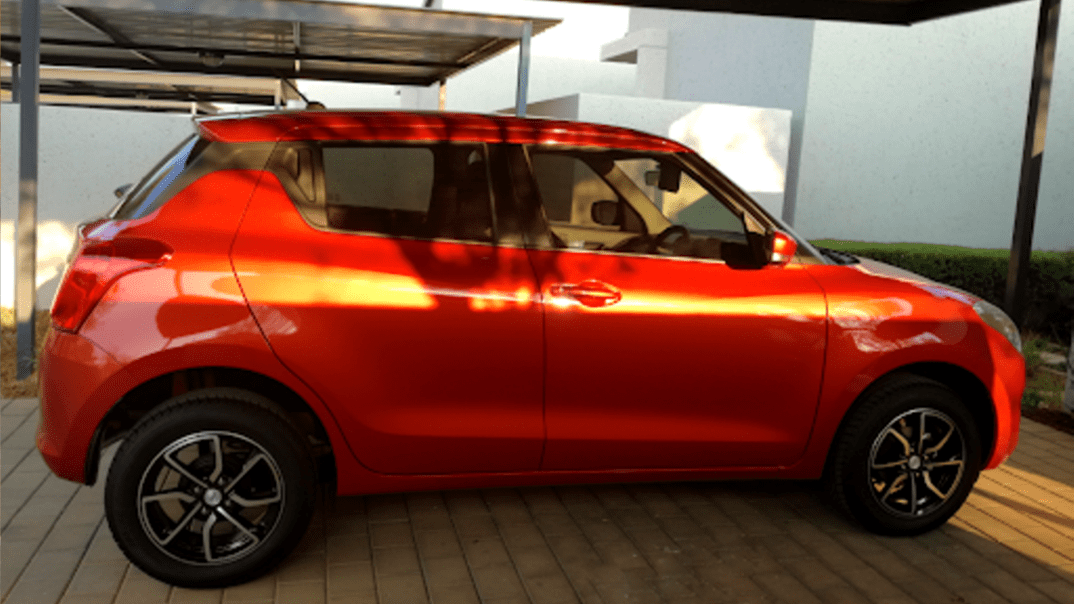 We think Suzukis are really awesome cars to drive but we're not alone. Here's what one of our customers has to say about why she loves her speedy, striking, orange Suzuki Swift.
Lauren Lokker didn't think she would leave the Suzuki Bryanston dealership with a 2019 Suzuki Swift 1.2 GL in Metallic Lucent Orange but it was love at first sight. She looked at several other car brands, however, her husband (who drives a Baleno) convinced her to also get a Suzuki.
Since getting her new set of wheels in August 2019, Lauren can't imagine not living the Suzuki Way of Life. We interviewed her to find out exactly what she loves about her new car she lovingly named Merigold. Here's what she had to say.
Getting my Suzuki Swift 1.2 GL
I was in the market for a new car and my husband told me that there wasn't a better car to get than a Suzuki. He's enjoyed all the benefits of great fuel efficiency, safety, and reliability. We enjoy the outdoors and would love to own a Jimny one day for all our off-road adventures. This is my first Suzuki and I don't think I could have made a better choice. This car is unique and vibrant and matches my personality - young at heart.
I was lucky to have got the Suzuki Swift 1.2 GL at such a good price (along with seven inch touchscreen radio with bluetooth connectivity and reverse park camera) because I bought it during their Women's Month special. What impressed me even more than my new car was the stellar customer service I received at Suzuki Bryanston. As soon as I had filled out a form on their website, I was contacted by Charity who organised for my husband and I to come view the Swift on a Saturday morning. We didn't spend more time at the dealership than we needed to because everything was done so efficiently.
My finance was approved at the dealership on the day I went to look at the car, and everything was finalised by the following Monday afternoon. My working hours were based on UK time, so it was difficult to get to the dealership to collect my car during office hours, but Charity was so accommodating. She ensured everything was ready before the dealership opened for me to pick up my beautiful new car on a Wednesday morning and still get to my office on time.
I loved how all the Suzuki Bryanston staff were just as excited as I was about getting this new car - such an excellent and personalised customer experience is something I haven't experienced before when buying a car.

What I love about my Suzuki Swift 1.2 GL
The colour I never knew I needed
The Metallic Lucent Orange was the last colour I would have picked when I looked at the colours online. I walked in thinking that I would like to get the Swift in Fire Red or Arctic Premium White. The dealers helped me choose the right colour, showing me every Swift they had in stock in all the various colours. I was keen to get one in the Arctic Premium White with black racing stripes. But, when I saw the Swift in Lucent Orange (with mags) in real life I was instantly sold!
The amazing infotainment system
I have never owned a car with such a great infotainment system. I love how I am able to answer calls and navigate to different apps all hands-free. It's so great that I am able to connect my cellphone and play my music via Bluetooth even when my cellphone is in my boot - that way I don't need to worry about smash and grabs. I'm able to connect it to my music app easily. The top criteria when choosing a new car was that it needed to have a great sound system (I love music) and the touchscreen radio in my car delivers just that.
Reverse / parking assistance
Unfortunately, reversing isn't my strongest driving skill. I've been prone to accidentally bumping into pillars, dustbins, and almost anything that stands still long enough when I'm reversing. With a rearview camera and reverse assistance in my new Suzuki Swift 1.2 GL, that's definitely going to be a thing of the past. It has taken some time to remember to use the rearview camera for assistance, but I'm definitely feeling like more of a reversing pro now. This is really an easy and pleasant car to drive and I'm so pleased I switched from the brand I had been driving for years.
Getting the Suzuki Swift 1.2 GL has fueled my dream to get the latest generation Jimny one day for our hiking trips. Suzuki has proven to be a wonderful brand, not only for their awesome car, but also for the amazing employees at their dealerships. Merigold is everything it promised to be and I couldn't be happier.
Want to experience Suzuki's Way of Life for yourself? Test drive the Swift or the new Swift Sport and let your own love affair begin.
Buying a new set of wheels can be intimidating, even if you're not a first-time buyer. With so many new developments in the automotive industry, you could overlook important features to ask about. Our guide on questions to ask your dealer is all-inclusive from finance to maintenance questions.