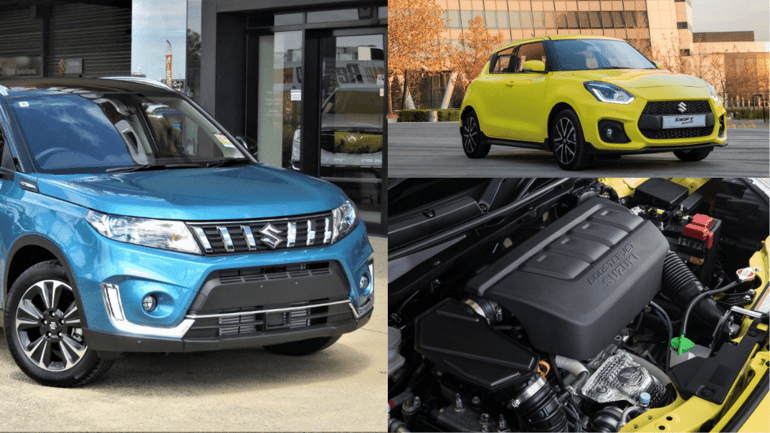 Suzuki South Africa is bringing their new range of BOOSTERJET turbocharged engines into the country! We unpack the reasons behind this change and what it means for Suzuki drivers.
Estimated reading time: 4 minutes, 54 seconds.
After a record-breaking sales month in June, we're keeping the good times rolling with the introduction of our BOOSTERJET range of turbocharged cars set to hit the South African market in August 2019!
Suzuki leads the way in small car design. We're experts at making the most of our precious resources, and by making the engine more efficient, smaller and lighter, we have been able to develop a range of turbocharged engines that not only work better and cost less money to run but are more fun to live with.
We call it BOOSTERJET technology
We used cutting-edge technology, premium materials, and industry-leading design techniques to develop engines that deliver more power and torque than engines twice their size all while returning better fuel consumption figures. How did we do it?

Turbocharged engines differ from naturally aspirated engines in the sense that turbocharged engines artificially pump more air and fuel into the engine's combustion chambers whereas naturally aspirated engines use natural air pressure to trigger combustion. This can help smaller engines produce more power. The BOOSTERJET range of engines uses direct fuel injection to further improve on the efficiency of the turbo system. It uses six-hole injector nozzles and a high-pressure fuel pump to create the perfect air/fuel mixture inside the cylinder. This can be broken down even further to the shape of the intake ports and the pistons themselves which have been designed to maximise the mixture and combustion of fuel.

When an engine burns more fuel and air, it creates more power. The way we have achieved this with our new range of BOOSTERJET engines is by using a turbocharger that utilises the energy of exhaust gases to drive internal turbines that in turn force-feed compressed air into the cylinders. This added air pressure and the resulting increase in combustion can be felt when you press down on the accelerator pedal and feel a wave of power pushing you back in your seat. We also use smaller and more efficient turbochargers to improve power delivery and in-gear acceleration: by using a smaller turbo, you need less air pressure to get the turbo compressor wheel to spin, which means you get an instant response when you need more power.
How do we manage that power?
Boost pressure created by the compression of exhaust gasses is controlled by a wastegate valve that regulates the amount of pressure entering the engine. This valve can help your car be more fuel-efficient or can help prioritise performance driving, depending on the situation. When the wastegate valve opens up, it releases boost pressure, which helps the car run more efficiently, and when it closes, all the boost pressure is put to use to deliver maximum performance. Our innovative BOOSTERJET engines use a short intake manifold and integrated exhaust manifolds connected to a turbo with an intercooler to extract more power and efficiency out of smaller engines. This entire process might sound complicated to some, but when broken down into its core principles, it makes sense why turbocharging was chosen as the best way to deliver the power we needed.

Key to the BOOSTERJET engine philosophy is compact design and lightweight engineering. The BOOSTERJET engine was designed with lightweight materials to allow for maximum levels of efficiency, but this clever design technique has freed up more power. A lightweight engine in a lightweight chassis is a recipe for fun.

But before we could introduce our new range of BOOSTERJET engines to the South African market, we had to do our research. It takes us three years on average to conceptualise, plan, test, and produce a new product. Rigorous testing and development went into our BOOSTERJET engines to make sure they would stand up to South African driving conditions and retain the legendary levels of reliability our customers have come to expect

When planning the introduction of a new model or engine, we research the type of driving environment our cars will face. For instance, cars destined for the European market will tend to have features such as heated seats and mirrors due to the wetter and colder climate conditions. Another major factor to take into account is the quality of fuel available. Because turbocharged cars require at least 95 octane fuel to run optimally and to prevent detonation, we had to make sure that our BOOSTERJET engines would be compatible with South Africa's fuel supply.
---
If you're looking for more information about how we choose which cars Suzuki should bring in, read more in this article where we unpack this topic in detail.
---
We are proud to say that the new range of BOOSTERJET engines have been tried and tested, and are ready to hit the South African market! The first BOOSTERJET - powered Suzuki cars will be the Vitara Turbo and new Swift Sport. The 1.4-litre engine in the Swift Sport pushes 103 kW and 230 Nm to the front wheels via a six-speed manual transmission and will offer a fuel consumption figure of only 6.1 litres / 100 kms. To put that into perspective, the current range of naturally aspirated engines of the same capacity found on the South African market will struggle to make half this power when up at Johannesburg's altitude, and will use more fuel to deliver that reduced power. Our range of smaller, yet more efficient BOOSTERJET engines is just one of the growing number of reasons why we keep setting sales records year on year.

For more insightful articles on our Suzuki new models visit our blog or subscribe and we will send you the latest articles straight to your inbox.
---
To get behind the wheel of the Swift Sport and feel the power of our newest model, book a test drive and feel the difference the turbo makes for yourself.