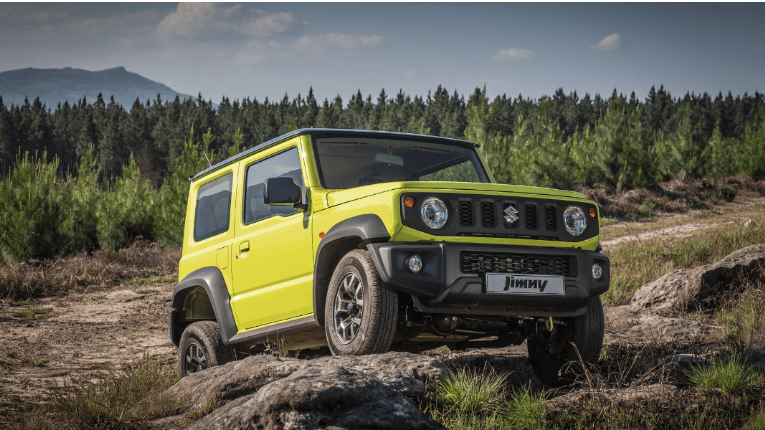 The Suzuki Jimny is the ultimate icon when it comes to compact 4x4s. Those in the know are making sure they get one in their garage, with no intention to sell any time soon.
Everyone has their opinion when it comes to cars, but you just need to scroll through a few Suzuki Jimny reviews to realise this one is more significant than the rest. As one reviewer states,
"The Suzuki Jimny is one of those cars that when you first lay eyes upon it, evokes a happy feeling in you. For me, I can compare it to when I see a pair of converse sneakers, I just want to put them on and make them my own."
Even if you're not a motoring buff, just reading through the opinions online will make it clear that the Suzuki Jimny is already considered an iconic mini 4x4 and that its popularity continues to grow. With the motoring world on the verge of massive transformation (self-driven and electric vehicles are predicted to become the norm in major cities within the next few years), vehicles such as the Jimny will quickly become a collector's dream.
It's impossible to predict exactly when a specific model (or which ones) will 'officially' be considered a classic. However, it's possible to make well-educated guesses based on popularity (and general sentiment) amongst the motoring public (particularly car clubs).
When you look at the sentiment surrounding the Suzuki Jimny, it's clear this little 4x4 is headed directly for the icon hall of fame.
What makes the Suzuki Jimny so special?
What makes the Jimny even more interesting, is the fact that the current model isn't all that different from the original LJ10, which was introduced in 1970.
Yes, the technology under the hood has evolved with the times, but park a 2018 model next to the original LJ10, and it's obvious that Suzuki made a concerted effort to keep the Jimny DNA as pure as possible. This is another reason its status as an icon continues to grow (think Fiat 500 and VW Beetle) – designs that remain as true as possible to original hits are the ones that tend to go down in history.
Another reason the Jimny is quickly becoming a sought-after classic-in-the-making is its simplicity. With the Jimny, Suzuki kept things simple – each new generation had the necessary updates, but still stuck to the original winning recipe of small, affordable and capable. By sticking to tradition and not succumbing to the temptation of over-designing or overcomplicating this nifty little car, Suzuki effectively (and probably unintentionally) created a classic.
Browsing through the comments and requests on the local Suzuki owners club website, it's obvious that it's only a matter of time before the mad scramble starts - where fans try and get hold of their favourite Jimny derivative. This is already happening with some of the older models, and the popularity of newer versions indicate they'll go the same route.
For this reason, Jimny aficionados are securing their 'future classics' as soon as possible and you're unlikely to convince them to sell any time soon.

The Jimny's reliability makes it ideal for long term ownership.
My Jimny spent the first seven years of its life dedicated to training hundreds of 4x4 enthusiasts, on a 4x4 course. However, I confidently get into it everyday, knowing that with her well-engineered pedigree we'll continue exploring together for many years to come.
Owning and driving a Suzuki Jimny is an experience that's difficult to put into words.
Though, at first glance, the Jimny may not make complete sense from a practical point of view, this little Suzuki has a way to wriggle itself into your heart.
It has a way to make you feel like a "better you" when you're behind the wheel, and part of the cult status of the Jimny comes from this timeless feeling.
The Suzuki Jimny opens up a new world of possibility for its owner.

Everywhere you travel in your Jimny, you feel the need to explore and venture off the beaten path. You'll seek every opportunity to take the proverbial leash off your Jimny, so she can run wild and lead you on endless adventures.
Simply put, my life is better with my Jimny!
Many Jimny owners know the value of their little 4x4 will likely increase over time, and they're going to hang on to their compact icons for as long as possible. Our advice? Grab one while you still can!
Click here to book a test drive.
Stay up to date with all our latest blog posts. we share great car tricks on buying a car, driving a car and the Suzuki Way of Life. Subscribe to our blog and get our latest content delivered straight to your inbox.