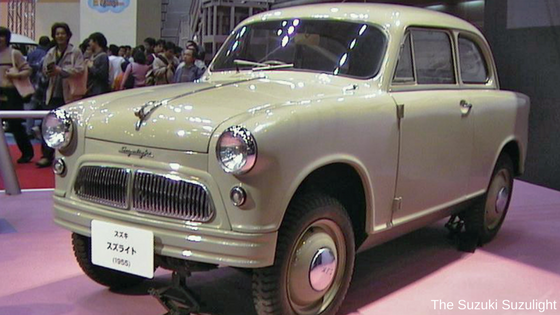 Suzuki is seeing increased success in the ever-growing small car market. So, what's their secret to success?
Suzuki is famous for its brilliant compact cars. In fact, the very first Suzuki car to go to market the Suzuki Suzulight (1955) was the company's solution to Japan's need for compact and affordable transportation after the second world war. To this day, Suzuki's core design philosophy is centred around compact vehicles that offer customers the best in comfort, safety and accessories in a very smart package.
Just like any product, many vehicles are better 'understood' if you know where they come from and the reasons behind their key traits and quirks. To put a whole lot of history into two sentences: after World War Two, Japan quickly grew to become a strong economic contender. As with many countries that see quick economic growth, this meant a huge influx of people into cities that went up almost overnight.
And the result is a country with massive cities teeming with people, culture and loads of character – but that leaves precious little space for parking or manoeuvring large vehicles through congested city streets. Take a look at these interesting posts for glimpses of the realities of traffic congestion in Japan. Congestion and the need for vehicles that thrive in a city environment, led to the development of a segment unique to Japan: Kei cars. To put it simply, Kei cars are compact versions of traditional vehicles from sedans, to SUV's, minivans and even bakkies. For many years this practice was unique to Asia and Europe, but as demand for more efficient and nimble transport grew around the world, manufacturers such as Suzuki were able to jump in and supply without having to retreat to the drawing board.
The point of this little history lesson, is that it helps us understand Suzuki's design philosophy and why the company places so much emphasis on small cars. A design philosophy is the reasoning behind a certain design and, in Suzuki's case, it's the solution to the increasing problem of traffic congestion, not only in Japan, but around the world.
What's their secret?
Suzuki's main secret to success when it comes to producing such effective, clever and edgy small cars is probably quite simple: many years of experience. While the rest of the world seemingly lost their minds and started building cars the size of small tankers (although it did result in some spectacular classics), Suzuki kept things small and simple, and kept refining the art of compact vehicle design and intelligent interiors. And although Suzuki does make bigger cars (such as the Vitara) that appeal to markets such as Australia and South Africa, it has a more varied line-up of compact cars than ever before.
Naturally, Suzuki's design language has close ties with the traditional design and style found across Japan. Although trends change and certain styles are more prevalent in specific areas, at its core Japanese design is all about serenity, light and uncluttered comfort. And this is precisely how you can describe the interior of any modern and compact Suzuki.
Through the years the company has developed an almost uncanny knack for pre-empting their customers' needs and ensuring their vehicles are equipped to match. Even their smallest cars never feel claustrophobic and offer more packing space than many of their larger counterparts. It's safe to say that Suzuki has become a leader in the world of compact vehicle design and is showing no signs of slowing down. In fact, Suzuki's popularity has skyrocketed over the past few years as the motoring public increasingly opts for smaller and more efficient vehicles.
Simply flicking through news channels or reading up on current trends quickly highlights the fact that, in most countries, the demand for compact vehicles will continue to grow. That said, there are certain realities that can't be changed: most of us will still need to be able to fit at least one child, possibly a dog, groceries or golf clubs, and occasionally our 'better' halves into our car of choice. And this is where Suzuki is leading the compact pack. Their long history of perfecting the ultimate small vehicle means there's no need to go back to the drawing board – they've already got it in the bag.
Subscribe to our blog for more useful and interesting posts like this, delivered straight to your inbox.