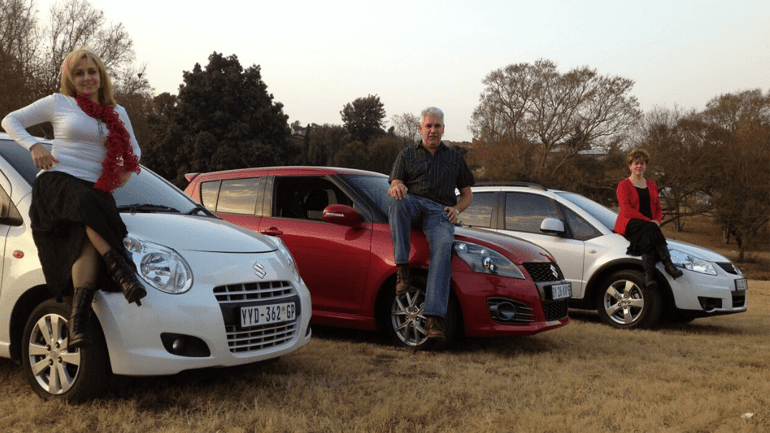 Suzuki has a variety of cars to suit any lifestyle and create lifelong memories. This wonderful husband and wife chose the Suzuki Way of Life when they got their SX4 and haven't looked back since.
When Marius Bekker bought his first Suzuki, he knew this was going to be his Way of Life for the rest of his life. As long-time members of the Suzuki family, having bought and owned several Suzuki models from Suzuki iPOP, Joburg South, there's no denying their love for our brand. Here he describes his beautiful Suzuki story.
How did your Suzuki love story begin?
When my wife and I bought a Suzuki SX4 2.0 AWD. We were very impressed and enjoyed the car tremendously.. Unfortunately, the car was written off in an accident but we loved that Suzuki so much we ended up purchasing another model similar to the SX4 2.0 AWD.
How did you get a speedy Suzuki Swift Sport?
My wife and I took part in the ad campaign for the first Swift Sport to land in South Africa. We went to the Velskoen drive-in (when it still existed) and we were part of the large number of Suzuki owners that were used in the ad. I immediately fell in love with the car and decided there and then I needed to get one. I bought the Swift Sport at Suzuki iPOP in Johannesburg South. Although I don't own it anymore that car definitely stole my heart.
What did you and your family love so much about the Suzuki SX4?
We really loved the Suzuki SX4. My wife ended up upgrading to the 2014 SX4. When it was relaunched in its new shape and new 1.6 engine. During our holidays we used the SX4 and travelled a lot of bad roads when we discovered Coffee Bay and surrounds. We love how this compact all-wheel-drive is capable of so much that it can keep up with larger 4X4s.
The SX4 travelled these roads with ease and never backed down.We were impressed with the quality of the build of the Suzuki as the vehicle never rattled, choked or feared any road we took it on. My wife especially enjoyed the safety and reliability of the SX4 as she did a lot of travelling for her work, and the car just delivered.
What other Suzuki models have you owned?
Once we purchased the SX4 model in 2014, we could then boast of having four Suzukis between the two of us. We got three of our friends to buy Suzukis because we were always confident that they would not be disappointed. They purchased Suzuki Celerio's 1.0 GL models and they are still driving them and still very happy.
Our foster child bought a Suzuki Alto because she loved just how reliable it is. She bought it brand new back in 2012 and continues to drive it to this day.. My wife bought it brand new back in 2012 and continues to drive it to this day. It has clocked more than 100 000kms, never had any hiccups and still drives like a charm. My wife traded in her SX4 and bought a Suzuki Vitara 1.6 GL+, and it continued where the SX4 left off. It continues to be her reliable set of wheels and it has not disappointed.
How did you go from a Ruby Red Swift Sport to a Champion Yellow one?
It was time to trade in my Ruby Red Swift Sport for a 2015 Champion Yellow Swift Sport that came with Bluetooth and cruise control. I was smiling because now I eventually had the colour I wanted from the first day I saw it in the making of the ad. I think anyone who saw me in my Champion Yellow Swift Sport was surprised to see a man of my age drive this car in such a striking colour but I didn't care. It ran well with other vehicles of other makes and sizes and I put a few of the other hot hatchback makers to shame.
My Suzuki Swift Sport was a great vehicle and I loved it, and would not give it up easily unless I could get my hands on a new Jimny which I eventually did. I got my 2019 Suzuki Jimny in October and I'm head over heels in love with it. I sold my Swift Sport for R150 000 to get the new Jimny, and this is an amazing price for a car that was four years old. This is just proof of the excellent resale value of Suzuki vehicles.
Did you buy all your Suzukis from Suzuki Johannesburg South?
During all these times when we had our Suzukis, we always took them to the same dealer for their stellar services, Suzuki iPOP, Joburg South. I can be a witness that we never asked for anything else to be repaired when we took them for a service which just proves the reliability of Suzuki cars.
With a total of seven Suzukis (I'm currently only on my third Suzuki and my wife is on her fourth), we can comfortably and happily say that we are a Suzuki family and wouldn't change this incredible Way of Life for anything.
Do you want to experience the Suzuki Way of Life for yourself? Test drive the new turbo-charged Swift Sport or any other stunning Suzuki model and let your own Suzuki adventure begin.
---
Don't miss out on our latest driving tips and safety advice. Subscribe to the Suzuki blog, and you'll receive our latest content straight to your inbox.