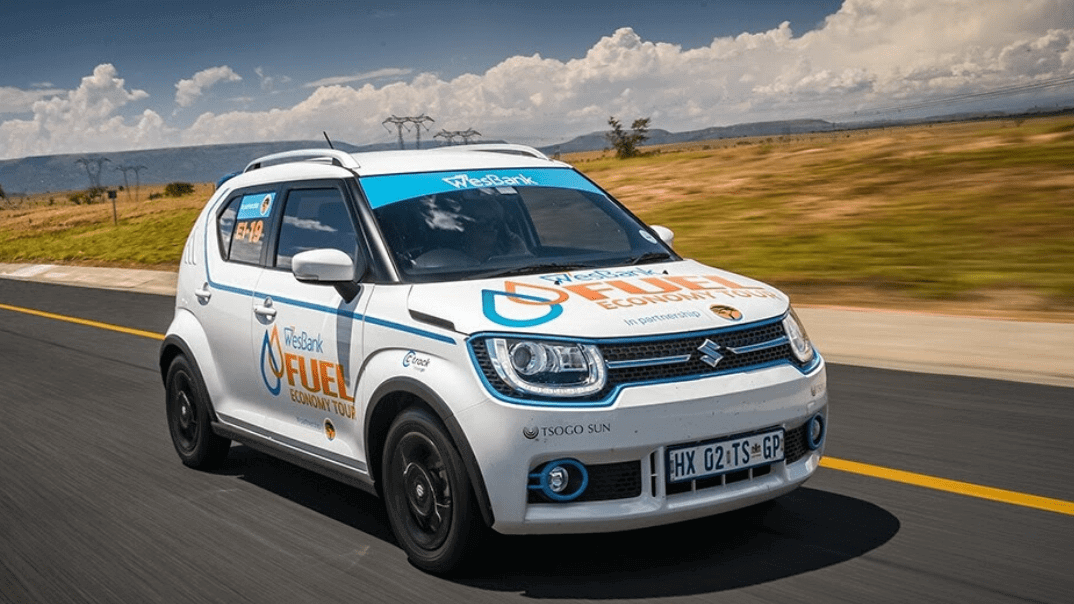 Looking for a real-world fuel miser? Then look no further than a Suzuki
This weekend, Suzuki completed the WesBank SA Fuel Economy Tour, in partnership with FNB, with a brand-average 5.41 litres/100 km over 2 500 km for the seven vehicles that it entered. This is the best performance of any brand, and the overall best performance for a petrol-only competitor.
In reaching this impressively low brand average fuel consumption, Suzuki was the most frugal competitor overall in three of the five days of competition, and it won six of the seven classes in which it competed.
Suzuki also received second place in the competition's Most Fuel-Efficient brand awards, where judges considered the three most frugal vehicles for each brand across all categories and across both petrol and diesel competitors.
Here it ended with an average fuel consumption figure of 5.097 litres/100 km for its top-performing Baleno 1.4 GLX MT (5.0840 litres), Ignis 1.2 GLX MT (5.0931 litres) and Swift 1.2 GLX MT (5.1138 litres) and lost out to the overall top spot by a mere 0.0275 litres.
"We decided to enter the inaugural SA Fuel Economy Tour with as many cars as possible, rather than only entering a single fuel-economy champion. We wanted to prove how fuel-friendly our entire range of passenger vehicles are and so we competed with different versions of the Baleno, Swift, Ignis, Swift Sport, Vitara and Ertiga," says André Venter, divisional manager for sales and marketing at Suzuki Auto.
The WesBank SA Fuel Economy Tour, in partnership with FNB, pitted different vehicles against each other in 17 different fuel consumption classes on an epic road trip that started in Johannesburg on 12 November and travelled along the coast to reach Cape Town on 16 November after 2 500 km of driving.
Vehicles were monitored with on-board cameras and vehicle tracking from CTrack to prevent and penalise illegal tactics, such as freewheeling, taking shortcuts, reckless driving on downhill sections to make up for lost time and the practice of driving too slowly, in order to save fuel.
"Fuel consumption is a major part of the total cost of ownership of a vehicle and this is the only competition of its kind where a vehicle's real world performance can be tested against manufacturers' claims. We are very proud that we not only beat our own claims, but that we could prove, once again, why Suzuki is a consumer affordability champion," says Venter.
The WesBank SA Fuel Economy Tour, in partnership with FNB, was not only about stiff competition. During the trip, Suzuki and other brands joined hands to support two schools with educational books and sports equipment worth R100 000.
The donation was in support of the READ Foundation's Rally to Read programme and it benefitted a school in Richmond, KwaZulu-Natal and another in Butterworth in the Eastern Cape.
"We would like to thank the organisers and all our colleagues and friends who helped to pilot the vehicles during this epic road trip. A special shout-out to the all-female team of Jeanette Kok-Kritzinger and Riëtte Wannenburg for coming so close to becoming the best all-female team in their Suzuki Swift," says Venter.
Final category results
Class

Model

Ave. fuel consumption

Position

E1 – normally aspirated petrol crossover

Ignis 1.2 GLX manual

Driver: Stuart Greig

Navigator: Wynand Gerber

5,0931 litres /

100 km

🏆 Winner

G1 – normally aspirated petrol SUV

Vitara 1.6 GL

Driver: Ben vd Westhuizen

Navigator: Isebel vd Westhuizen

5,8004 litres /

100 km

🏆 Winner

H1 – petrol SUV with forced induction

Vitara 1.4 Turbo GLX manual

Driver: Willie Nel

Navigator: William Nel

5,3421 litres /

100 km

🏆 Winner

I1 – normally aspirated petrol saloon and hatches under 1 199cc

Suzuki Swift 1.2 GLX manual

Driver: Jeanette Kok-Kritzinger

Navigator: Riette Wannenburg

5,1138 litres /

100 km

Second

I2 - normally aspirated petrol saloon and hatches under 1 200cc – 1499cc

Baleno 1.4 GLX manual

Driver: Brendon Carpenter

Navigator: Mike Altona

5,0840 litres /

100 km

🏆 Winner

J2 – petrol sedans and hatches 1100cc – 1 500cc

Swift Sport 1.4T manual

Driver: Chelsy Pinto

Navigator: Alison Russell

5,5977 litres /

100 km

🏆 Winner

K1 – compact petrol and diesel MPVs

Ertiga 1.5 GLX man

Driver: Willem van Rooyen

Navigator: John Reidy

5,8435 litres /

100 km

🏆 Winner
All the results and pictures from the event can be found at www.worldoffueleconomy.com
To learn more fuel saving tips, read awesome road trip stories and learn about our Suzuki range, subscribe to our blog and never miss a post.
---
Download our 101 car facts and get all the tips and tricks before buying a new car