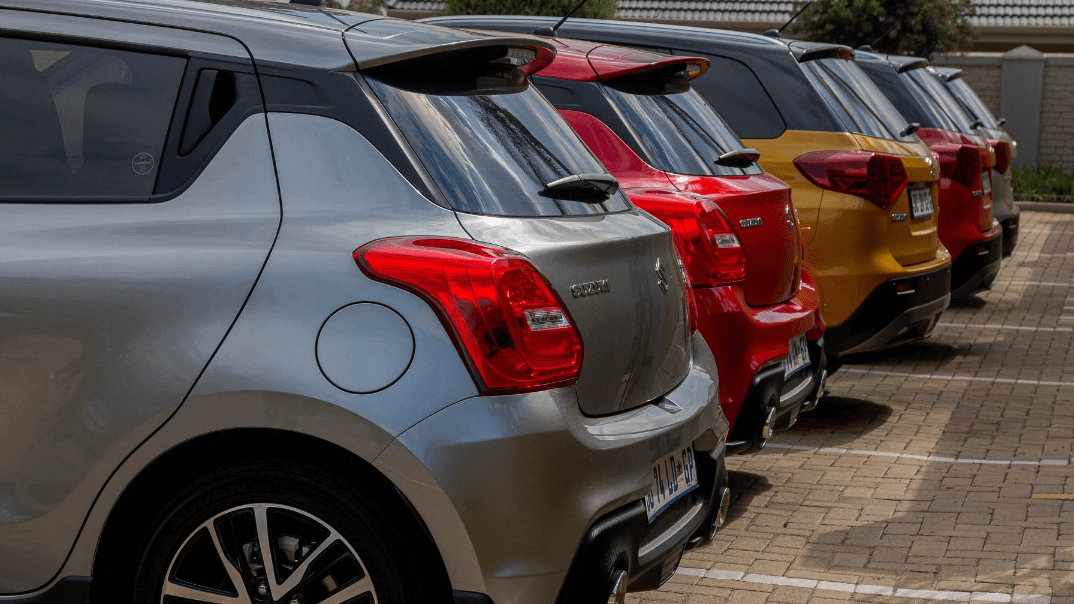 Auto enthusiast and journo Khulekani Dumisa went on a tour of Limpopo with some influencers, and the latest Suzuki turbo editions – the Vitara Turbo and the Swift Sport. Here are his highlights.
With local travel opening up again, we know many home-bodies are whetting their appetites for the open road yet again! A while ago, we asked auto-journalist Khulekani Dumisa to test our latest turbo editions on a tour of Limpopo with some influencers, including Thobeka Mthembu, Grant Hinds, Thandi Gama and Ndivhuwo Muhanelwa.
If you're in Limpopo, here are some of Khulekani's highlights, recommendations and glowing reviews (if we do say so ourselves) of the Vitara Turbo and Swift Sport Turbo.
In Khulekani's own words…
The purpose of the trip was to try out Suzuki's booster jet technology – their turbo engines – and I have to say they are very good cars! Suzuki has been known for delivering reliable, naturally aspirated engines that are fuel efficient, but now they are taking a leap and embracing turbo technology. The two champions of this new technology are the Vitara Turbo and the Swift Sport. So, we got the opportunity to experience these cars ourselves.
The Vitara Turbo
The impression of the Vitara was that it is a very different vehicle from the Swift Sport. It is developed especially for families, and is great on the open road. It still retains Suzuki's trademarks of reliable engineering, fuel efficiency and just enjoyable driving. I spent most of my time in the Vitara, and I enjoyed it so much. The freedom!
Our Vitara was the lead car on the trip, and my co-driver and I thoroughly enjoyed the space and comfort of the car. It's high up on my list of SUVs should I go that way.
The Swift Sport
The Swift Sport has been a champion over the years. It provides an engaging and entertaining driving experience, so it's perfect for more experienced drivers who want to enjoy their car. The new model has a great power/body weight ratio, so it punches well above its weight. It's a subtle, sporty, and well-loved car.
The previous generation car was very well regarded and is in many ways a collector's item, so the new car had high standards to live up to. To our surprise, it managed to beat the old recipe! The turbo technology managed to help ignite a sense of extra excitement in the car.
Previously, a driver would have had to work a bit to get power out of the car, but this model kicks in much earlier thanks to the turbo technology. This means that the driver has more time to focus on the driving experience. It's also a very comfortable car to drive, and fuel efficient for everyday use... but when you dial it up, it is very engaging and very entertaining. We loved cruising along the highway. Most people know Suzuki for being an affordable brand that offers attainable quality. That's still true in many regards, but the Swift Sport takes things further.
A fervent car enthusiast, it took some time to get him to talk about the trip itself! Here are Khulekani's Limpopo highlights.
We took the Swift Sport on the Magoebaskloof Pass and we had a blast attacking those corners, and getting a feel for the car. It wasn't too intimidating which worked well as we had a mix of experienced drivers and regular folks driving the cars.
Magoebaskloof Pass is very scenic; there are outposts where you can stop to take in the view, but the advice is that you plan your trip so that one way is for enjoying the view, and the other, for enjoying the twisty road.
I also enjoyed driving on the small provincial roads – especially in the Vitara Turbo. The advantage of the turbo technology is that you don't have to worry about gearing the car down when overtaking, as the power is there at your fingertips. You just accelerate and the car wants to go! You don't feel any lag or like you're overburdening the car.
Limpopo tourist highlights
Limpopo is beautiful and understated, and is definitely next on my travel list. These are just some of the must-sees:
2000-year-old baobab tree outside of Gravelotte, Limpopo: It's the second largest baobab tree in South Africa! You can get lost in appreciating a tree that's been around for 2000 years – wars have been fought around it; it was once a post office, a real meeting place. This tree could tell awesome tales and it was humbling to see it.
Marula Factory in Phalaborwa: It was really fun to see the collection and processing of marula fruits.
Qualito gin distillery for locally prepared, delicious gin and whisky.
Exciting boat cruises with Oliphant River Safari.
Evening game drives in Kruger National Park.
The people in Limpopo are very warm and inviting, which makes the province a real pleasure to travel in.
If you're plotting your next adventure, download the Suzuki guide to plan your next road trip!
---
For more details on what's new, what's happening, and what's changing in the world of cars, subscribe to our blog.