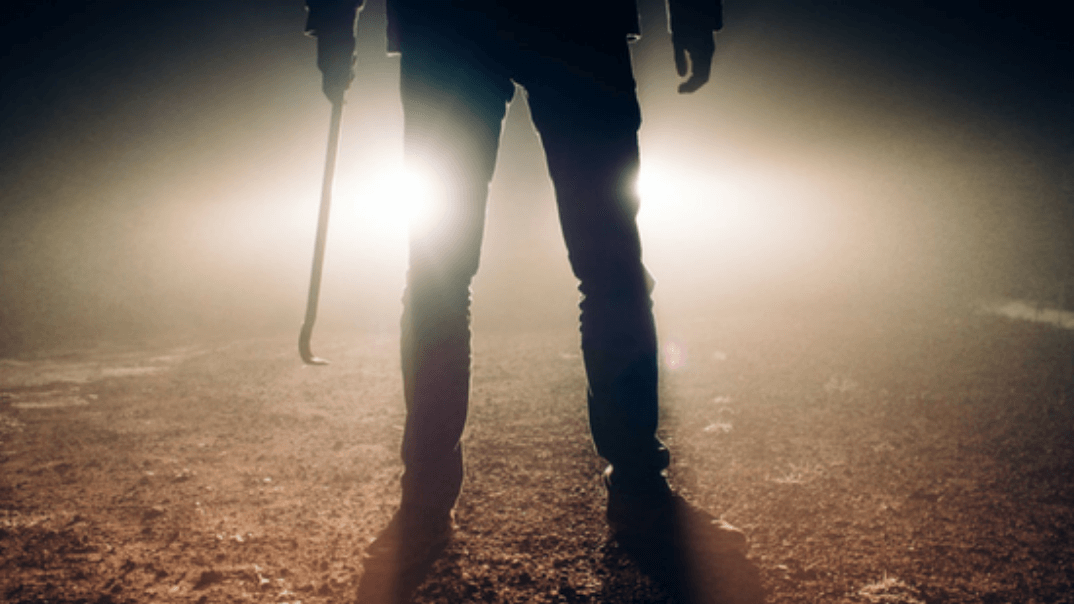 Whilst you can't (with certainty) prevent car theft, there are several steps you can take to avoid becoming a hijack victim - one of which is choosing a low-risk vehicle.
Every 32 minutes, a motorist is hijacked somewhere in South Africa - that's a horrifying 46 cars hijacked every day. Hijacking and car theft are, unfortunately, a reality which has to be factored into our daily lives. We're faced with decisions like whether or not to get insurance, install a tracker or park our car on the verge at our best friend's braai.

Bheki Cele, the Minister of Police, has presented the 2017/2018 national crime statistics and the numbers paint a grim picture for motorists with a reported 16,325 vehicle hijackings between April and March 2019.
In February (2017) Ctrack, a global supplier of vehicle tracking, insurance telematics and fleet management solutions, released a report based on its hijacking and crime statistics. The report was compiled using data and analytics from January 2016 to December 2016 and listed, in order, which vehicle makes are targeted by criminals in South Africa. Suzuki is one of the least hijacked brands in South Africa and wasn't mentioned at all on Ctrack's list.


The top ten most hijacked passenger vehicle brands are (in order):The top ten most hijacked sport / utility vehicle brands are (in order):
VW

Toyota

Ford

Citroen

Kia

Hyundai

BMW

Audi

Renault

Chevrolet
The following charts, showing the most hijacked cars in South Africa, are based on Ctrack's report data: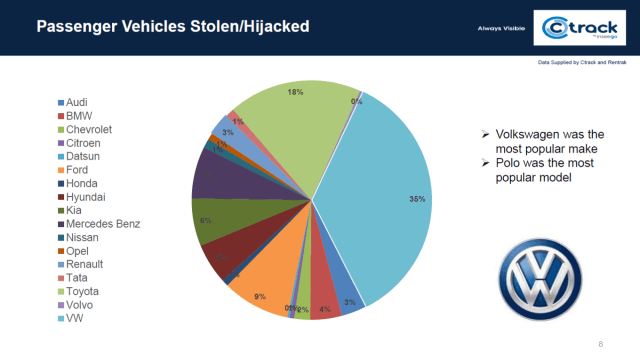 Image source: BusinessTech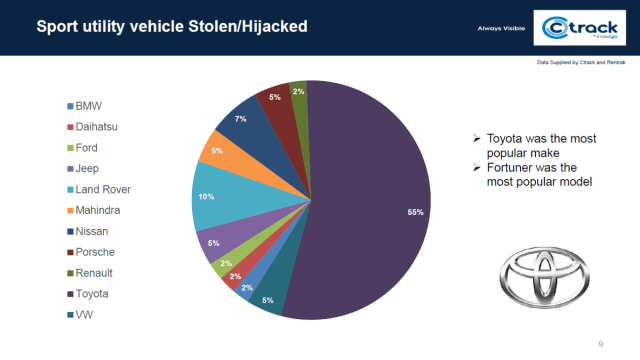 Image source: BusinessTech


The top ten most hijacked sport / utility vehicle brands are (in order):
Toyota

Land Rover

Nissan

Mahindra

VW

Jeep

Porsche

Renault

Ford

Daihatsu
There are a number of ways hijackers can target you, even if your car isn't a high risk vehicle. Executive head of Dial Direct, Warwick Scott-Rodger, says the top five vehicle hijacking trends in South Africa right now are:
1. Vehicles hijacked at fuel stations
Drivers filling up with fuel at fuel stations are often targeted by hijackers. . They approach the driver from his or her blindspot and force them out of the vehicle. It's difficult for petrol attendants to intervene as many hijackers are armed.
2. The dangers of strangers
Vehicle owners can be approached at social spots by strangers who befriend them, later spike their drinks, and then steal their keys and make off with their vehicle.
3. Fake blue lights
Hijackers pose as traffic officers or police officials and get vehicle owners to pull over. They often drive in unmarked vehicles and once drivers pull over, they are overpowered and their vehicles are hijacked.
4. Hijacked at home
Vehicle owners are overpowered in their homes and vehicles are taken along with other possessions.
5. Vehicles hijacked after driver is followed home
Hijackers follow vehicles home, box owners in their driveway, and then hijack them. Hijackers often wait for the owner to enter the property and then block the security gate from closing.
Whilst you can't (with certainty) prevent crime, there are several steps you can take to avoid becoming a victim. BusinessTech provided this seating plan from The National Hijack Prevention Academy that will help keep your kids safe during a hijacking.
Fidelity ADT Communications Manager, Chanel Hattingh, recommended that the eldest child should be seated behind the driver and the youngest to the left as it would be easier to get them both out the car in the event of a hijacking. She said.
"If you are hijacked and need to get out of the car, you can move quickly from the driver's door to the door directly behind it. You can reach across the eldest child to unstrap the younger child. The eldest child can cling to you as you remove them both together,"
Keep these things in mind to avoid becoming a hijack victim
Park in a secure area, with good lighting and preferably a guard on duty.

Have your keys ready, but out of sight, and only unlock your car when you're close to it. Many Suzukis come with keyless entry which saves you from scrabbling around in your handbag in the dark.

Keep your valuables out of sight, preferably in the boot.

Drive with your windows closed and doors locked.

Stay vigilant. Be aware of your surroundings and watch your mirrors for any suspicious vehicles or pedestrians. Avoid distractions, like checking your phone at the robot, as this leaves you vulnerable.

Don't remain stationary if you don't need to. Slow down when approaching a red robot at night, so it's green by the time you reach the intersection.

Keep a safe following distance (approximately one car length) and when stopped at a robot, allow yourself space to manoeuvre in case you need to make a quick getaway.

If you feel like you're being followed, drive straight to your nearest police station or a busy, well lit public area.

Change your route regularly to avoid criminals being able to identify your routine.

Don't turn into your driveway if you believe you're being followed.

Pull up parallel to your gate as it opens or check to see if you have been followed from a shopping mall.

Let people know in advance what time you'll be arriving so that someone can open and close the gate for you.

Keep your own driveway well lit and cut back any overgrown shrubs which could obstruct the view of your surroundings.
During an interview with Fourways Review, Jean Berdou (Chairperson of the Douglasdale Police Forum) gave advice to motorists who find themselves in a hijack situation.

---
For some helpful advice on avoiding a hijacking, you can download this inforgraphic for some top tips on avoiding a hijacking - we hope you find these helpful.
---
The following steps could help save your life in a hijack situation:
Remain calm and non-confrontational.

Be compliant and do as the hijackers say.

Hand over your car keys without hesitation.

Appeal to their humanity and ask them to let you go.

Although it's difficult, try to absorb as much detail as possible (e.g. the age, facial features and physical build of the hijackers).

Get as far away from the hijackers as possible before calling for help.

Report the incident to your local police station and vehicle tracking company.

Seek trauma counselling to help you recover from the ordeal.
The South African shared the South African Cities Network (SACN)'s report looking at the state of urban safety which is based on SAPS crime statistics.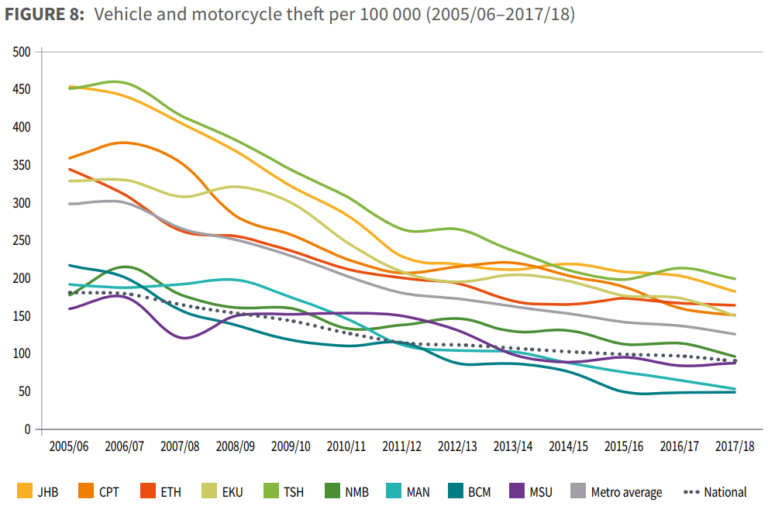 Despite a significant decline of 56% and 60% respectively in the last ten years, Tshwane and Johannesburg remain the cities with the highest rates of this crime, followed by eThekwini, Ekurhuleni and Cape Town.
Stay Alert: Hijacking hotspots in South Africa

Cars.co.za warns motorists to be vigilant and alert in the following hijacking hotspots throughout South Africa.

Johannesburg Hijacking Hotspots
Pretoria Road, CR Swart

Elgin Road and Pretoria Road, Johannesburg

Linksfield Road, N3

Booysens Road, M1

Nelson Mandela Bridge

Wolmarans Road, Johannesburg

Saratoga Road, Johannesburg

Abel road, Johannesburg

Houghton Drive, M1

Jan Smuts Avenue, Johannesburg

Krause Street, Pageview

Heidelberg Road, Johannesburg

Kyalami Drive, Johannesburg

Beyers Naude road and N1

Sunninghill, N1, Rivonia

Midrand, Clayville

Grayston, Rivonia, 11th Street.

Empire Road, Johannesburg

Jan Smuts Avenue, William Nicol Drive, Hyde Park

Witkoppen Road

Bramley, Johannesburg

Yeoville, Johannesburg

Norwood, Johannesburg

Sandringham, Johannesburg

11th avenue and 7th Avenue, Johannesburg

Hillbrow Precinct, Upper Houghton, Killarney

Saxonwold, Parkwood

Christiaan de Wet and Wilgerood road

Louis Botha Avenue, M11, Hillbrow, Alexandra

Riviera Road and M1

11th Avenue, Fairland

1st Avenue and Pretoria Main road, Johannesburg

New road and N1, Midrand

William Nichol, N1 highway

Nelson Mandela Drive, Johannesburg

Outside Eskom's MegaWatt Park. (Maxwell Drive, Sunninghill)

Midrand Road and Cedar Road

Cape Town Hijacking Hotspots

Military Road and Prince George Drive, Cape Town

St Stephens Road, Cape Town

Alice Street and Voortrekker Road, Cape Town

Station Road, Cape Town

Klipfontein Road, Cape Town

Prestwich Road, Ebenhezer, Cape Town

Vanguard Drive, Cape Town

R300, N1 Cape Town
Tshwane Hijacking Hotspots

Es'kia Mphahlele Drive

Paul Kruger Street

R55

Burnett Street

Delfi Avenue and Garsfontein Road

Stormvoel Road Traffic Lights

Watermeyer Street Traffic Lights

Nelson Mandela Drive

Simon Vermooten Road and Lynnwood Road

Lynwood Drive and Solomon Mahlangu Drive

Justice Mahomed Street (Walker Street)

Duncan Street

Lynnwood Road and University Road

Rigel and N1 Off-Ramp

Pretoria Street and Simon Vermooten Road

Simon Vermooten Road and Furrow Road

Lynwood Road and N1 Off-Ramp

Solomon Mahlangu Drive (Hans Strydom) and N4 Off-Ramp

Solomon Mahlangu and R21

Atterbury Road and N1 Off-Ramp

Pretorius Street Traffic Lights

Francis Baard Street and Festival Street

Francis Baard Street and Hilda Street

Francis Baard Street and Grosvenor Street


Durban Hijacking Hotspots

AN Centre, 16 Chestnut Crescent, Mariannhill

Justice Street, Chatsworth

Umlazi

Police Station Road, Isipingo

Deodar Avenue, Umbilo

CNR Julius Nyerere Street and Anton Lembede Street, Greyville

Dr Pixley Kaseme Street

Botanic Gardens Road, Musgrave

Sherwood

Alpine Road

Marbleray Drive, New Dawn Park

Park Hill, Durban North
Purchasing a high-risk vehicle can increase your chances of becoming a hijack victim. We recommend you keep the following tips in mind to help you stay safe on the road.
Subscribe to our blog and get all our exciting content delivered to you either weekly or monthly.
---
Experience the new Suzuki Celerio today, move smart, and live smart, the Celerio way. Book a test drive now.