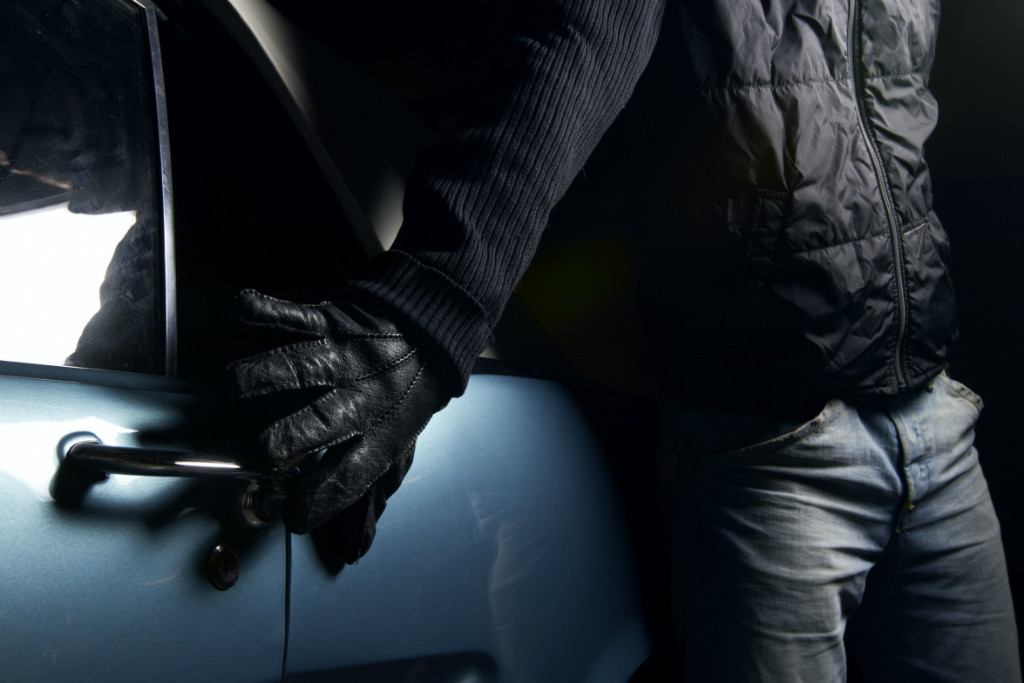 Whilst you can't (with certainty) prevent car theft, there are several steps you can take to avoid becoming a victim - one of which is choosing a low risk vehicle.
As motorists in South Africa, hijacking and car theft are unfortunately a reality which are factored into our daily lives. We're faced with decisions like whether or not to get insurance, install a tracker or park our car on the verge at our best friend's braai.
According to crime statistics there were, on average, 40 hijackings per day during 2016, 50% of which occurred in Gauteng.
In February (2017) Ctrack, a global supplier of vehicle tracking, insurance telematics and fleet management solutions, released a report based on its hijacking and crime statistics. The report was compiled using data and analytics from January 2016 to December 2016 and listed, in order, which vehicle makes are targeted by criminals in South Africa. Suzuki is one of the least hijacked brands in South Africa and wasn't mentioned at all on Ctrack's list.
The top ten most hijacked passenger vehicle brands are (in order):
VW

Toyota

Ford

Citroen

Kia

Hyundai

BMW

Audi

Renault

Chevrolet
The following charts, showing the most hijacked cars in South Africa, are based on Ctrack's report data: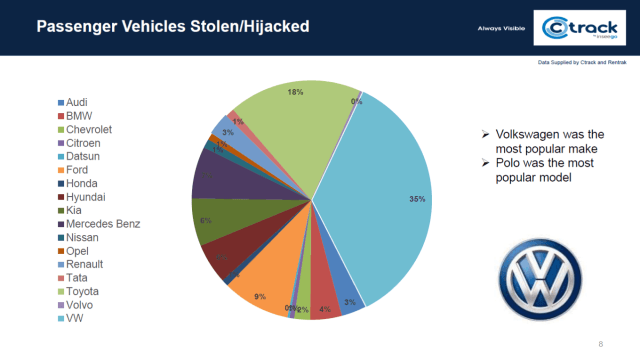 Image source: BusinessTech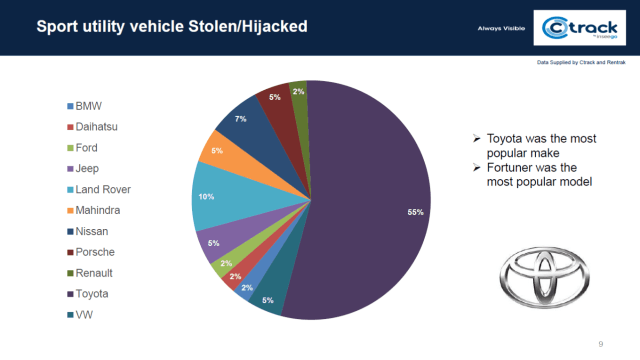 Image source: BusinessTech
The top ten most hijacked sport / utility vehicle brands are (in order):
Toyota

Land Rover

Nissan

Mahindra

VW

Jeep

Porsche

Renault

Ford

Daihatsu
Whilst you can't (with certainty) prevent crime, there are several steps you can take to avoid becoming a victim.
Keep these things in mind to avoid becoming a hijack victim:
Park in a secure area, with good lighting and preferably a guard on duty.

Have your keys ready, but out of sight, and only unlock your car when you're close to it. Many Suzukis come with keyless entry which saves you from scrabbling around in your handbag in the dark.

Keep your valuables out of sight, preferably in the boot.

Drive with your windows closed and doors locked.

Stay vigilant. Be aware of your surroundings and watch your mirrors for any suspicious vehicles or pedestrians. Avoid distractions, like checking your phone at the robot, as this leaves you vulnerable.

Don't remain stationary if you don't need to. Slow down when approaching a red robot at night, so it's green by the time you reach the intersection.

Keep a safe following distance (approximately one car length) and when stopped at a robot, allow yourself space to maneuver in case you need to make a quick getaway.

If you feel like you're being followed, drive straight to your nearest police station or a busy, well lit public area.

Change your route regularly to avoid criminals being able to identify your routine.

Let people know in advance what time you'll be arriving so that someone can open and close the gate for you.

Keep your own driveway well lit and cut back any overgrown shrubs which could obstruct vision of your surroundings.
During an interview with Fourways Review, Jean Berdou (Chairperson of the Douglasdale Police Forum) gave advice to motorists who find themselves in a hijack situation.
The following steps could help save your life in a hijack situation:
Remain calm and non-confrontational.

Be compliant and do as the hijackers say.

Hand over your car keys without hesitation.

Appeal to their humanity and ask them to let you go.

Although it's difficult, try to absorb as much detail as possible (e.g. the age, facial features and physical build of the hijackers).

Get as far away from the hijackers as possible before calling for help.

Report the incident to your local police station and vehicle tracking company.

Seek trauma counselling to help you recover from the ordeal.
Purchasing a high risk vehicle can increase your chances of becoming a hijack victim. We recommend you keep the following tips in mind to help you stay safe on the road.
Suzuki aims to help keep South African motorists safe and informed. For more tips on safety and expert, insider advice you can subscribe to the Suzuki blog.